Black cowboy George Fletcher, the "People's Champion," is the subject of this story from the old west.
Let 'er Buck! George Fletcher, the People's Champion by Vaunda Micheaux Nelson, illustrated by Gordon C. James. Carolrhoda Books, 2019, 32 pages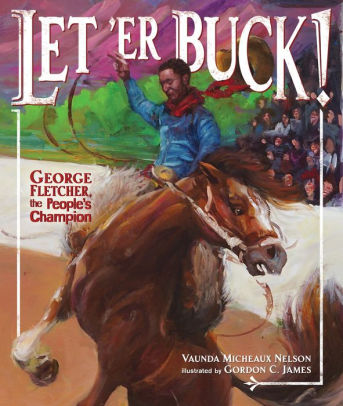 Reading Level: Picture Book, ages 4-8
---
Elissa Learns Thankfulness
What's better than a snail that prays?
That curious snail Elissa is at it again... and she learns a valuable lesson about thankfulness and being happy about who you and what you are!
Order Now!
About the Book
Inspired by the Christian ideal of being thankful for all that you have, Elissa Learns About Thankfulness is a beautifully written, fantastically illustrated book about our favorite characters Francine and Elissa learning a valuable lesson about being thankful for who and what we are. In this fourth edition in the Elissa the Curious Snail Series we meet some of Francine's family and again see the familiar cast of characters in the yard. At first, Elissa isn't happy that birds can fly and cats can run – she's unhappy being a snail and wants those experiences for self. But being a snail is helpful because her small size and slithering nature let Elissa save the day by finding a lost ring. In the end, Elissa realizes she is thankful for who God made her and what she is.
Crafted for children ages 0-1000, this timeless story is sure to be an instant classic, at home in the hands of anyone looking for the perfect reminder of just how thankful we all should be. No faithful home should be without a copy.
Other Books in "Elissa the Curious Snail Series"
Disclosure of Material Connection: Some of the links in the page above are "affiliate links." This means if you click on the link and purchase the item, I will receive an affiliate commission. I am disclosing this in accordance with the Federal Trade Commission's
16 CFR, Part 255
: "Guides Concerning the Use of Endorsements and Testimonials in Advertising."
---
Recommended for: Ages 5-10
When George Fletcher's family moved from Kansas to Oregon in 1900, he found himself in horse heaven–not only that, but Indians at the local Umatilla reservation became some of his best friends. Growing up black anywhere in the U.S. opened him up to all forms of prejudice, but George quickly found his niche as a horse trainer and cowpuncher–and champion bronco rider. At the 1911 Pendleton Round-up he had the opportunity to prove his mettle. But would he get a fair shake?
Told in a folksy western idiom with exuberant oil illustrations, this little-known slice of Americana is heartwarming and hopeful. A glossary and biographical information fill out the story for older readers.
Cautions: None
Overall rating: 4.5 (out of 5)
Worldview/moral value: 4
Artistic value: 4.5
For another heartwarming horse story, see Step Right Up: How Doc and Jim Key Taught the World about Kindness.
The post Let 'er Buck! by Vaunda Micheaux Nelson appeared first on Redeemed Reader.