A Wolf Called Wander sensitively traces the journey of a young wolf in his quest for a new home and pack.
A Wolf Called Wander by Roseanne Parry. Greenwilow (HarperCollins), 2019, 235 pages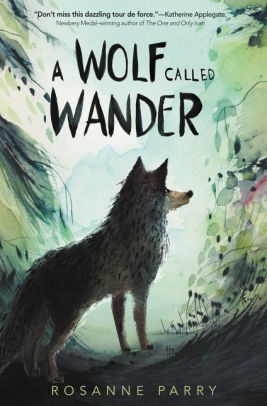 Reading Level: Middle Grades, ages 8-10
---
Elissa Learns Thankfulness
What's better than a snail that prays?
That curious snail Elissa is at it again... and she learns a valuable lesson about thankfulness and being happy about who you and what you are!
Order Now!
About the Book
Inspired by the Christian ideal of being thankful for all that you have, Elissa Learns About Thankfulness is a beautifully written, fantastically illustrated book about our favorite characters Francine and Elissa learning a valuable lesson about being thankful for who and what we are. In this fourth edition in the Elissa the Curious Snail Series we meet some of Francine's family and again see the familiar cast of characters in the yard. At first, Elissa isn't happy that birds can fly and cats can run – she's unhappy being a snail and wants those experiences for self. But being a snail is helpful because her small size and slithering nature let Elissa save the day by finding a lost ring. In the end, Elissa realizes she is thankful for who God made her and what she is.
Crafted for children ages 0-1000, this timeless story is sure to be an instant classic, at home in the hands of anyone looking for the perfect reminder of just how thankful we all should be. No faithful home should be without a copy.
Other Books in "Elissa the Curious Snail Series"
Disclosure of Material Connection: Some of the links in the page above are "affiliate links." This means if you click on the link and purchase the item, I will receive an affiliate commission. I am disclosing this in accordance with the Federal Trade Commission's
16 CFR, Part 255
: "Guides Concerning the Use of Endorsements and Testimonials in Advertising."
---
Recommended for: Ages 8-14
I begin in darkness and my nose tells me everything I know.

I have a brother, Sharp. Bigger than me, and all growl. I have sister Pounce, who loves to wrestle, and Wag, who talks with her tail. And last of all, my brother Warm, who likes to curl up under my chin, the only pup smaller than me.
The wolf pup who begins in darkness, curled up with his litter, will be known as Swift. Speed marks him out from the others and wins him a place in the pack when they go on the hunt. He's the one who turns the elk or deer herd once their running has revealed the weakest members. He belongs to a successful pack who eats well until their territory is claimed by a rival pack. Then it all falls apart in a fury of wounding, running, chasing, losing. Swift is soon on his own in the Oregon wilderness, separated and on the hunt for food and home.
The author navigates animal conscious as well as she did for humans in Heart of a Shepherd and Last of the Name. The story of Swift is based on the pilgrimage of OR-7, a gray wolf caught and released after fitting him with a radio collar to track his movements. Like Swift, OR-7 was separated from his pack and traveled over 1000 miles before finding a mate and a home northern California. Animal lovers will find Swift's trek thrilling, with its dangers and comforts and unexpected allies. The narrative is straightforward, and free of the heavy misandry of Pax and similar animal-in-the-wild stories.
Overall Rating: 4 (out of 5)
Worldview/moral value: 3.5
Artistic/literary value: 4.5
The post A Wolf Called Wander by Roseanne Parry appeared first on Redeemed Reader.