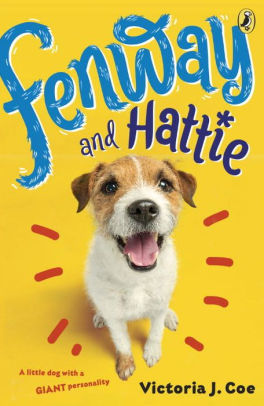 The Fenway and Hattie series pits an excitable Jack Russell terrier against delivery men and treacherous flooring.
Fenway and Hattie by Victoria J. Coe. Putnam, 2019, 162 pages
Reading Level: Middle grades, 8-10
---
---
Recommended for: ages 7-10
Humans may love their dogs and vice versa, but that doesn't mean they see everything alike. Fenway is a very young Jack Russell terrier who thinks he knows his short human perfectly, especially when she brushes his fur and assures him, night after night, that they are "best buddies." Then they move from an apartment in the city to a big house with its very own dog park! (otherwise known as a "back yard"). The new place has its advantages but also a whole pack of dangers to guard his people from: delivery men, repair men, and baseball gloves. It doesn't occur to him that Hattie, food Lady and Fetch Man might not appreciate his efforts, and they don't even appear to notice how the Wicked Floor (which tangled him up in knots the first time he tried to dash across) is keeping him from his food dish. Now they're giving him stern commends like Sit and Stay, and frowns instead of treat. Doesn't his Hattie even like him anymore?
Kids who ever wondered about a puppy's point of view will enjoy this quick read, which communicates a dog's exuberance (Wowie!), priorities (treats!), irritants (squirrels!), and sorrows (I'm sooooo hungry!). There's not much plot, but Fenway's voice charms just long enough. His fans will want to follow his adventures through the whole four-book series.
Overall Rating: 3.75 (out of 5)
Worldview/moral value 3.5
Artistic/literary value: 3.75
The post Fenway and Hattie by Victoria Coe appeared first on Redeemed Reader.